A person in North Carolina injured by the "negligence" of another is entitled to recover damages from the negligent party (i.e. "tortfeasor"). The law of negligence is a broad area, that encompasses automobile accidents, legal (lawyer) malpractice, other forms of professional negligence (e.g. legal malpractice), wrongful death, and dog bite cases. "Negligence" is generally defined as the failure to exercise "due care," or "reasonable care," and is predominately governed by "common law" in North Carolina. There are also statutes addressing particular types of negligence cases, such as medical malpractice actions, product liability actions, and actions arising from equestrian events.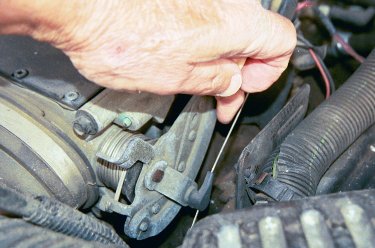 The primary defense to a negligence action is "contributory negligence." Even if the defendant negligently caused injury to the plaintiff, the plaintiff cannot recover any compensation for his injuries if he was at all negligent in causing his injuries. North Carolina is one of only a small number of states that still apply the strict doctrine of contributory negligence (as opposed to, e.g., "comparative negligence"). There are several twists to this doctrine, such as the doctrine of "last clear chance," the "rescuer doctrine," claims for "willful and wanton" conduct, and the contributory negligence of minors. Another page on this site addresses the doctrine of contributory negligence in North Carolina in greater detail.
A person injured by the negligence of another person is entitled to recover damages to compensate him for bodily injury and property damage. Proving negligence can be a simple matter, or it can require expert testimony. The plaintiff (i.e. the injured person) must also prove that the defendant's negligence "caused" the plaintiff's losses. In the photo to the right, an expert examines the engine of a car to determine if the acceleration system failed.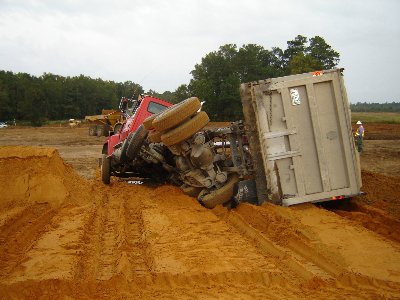 In the photo to the left, a dump truck has turned over at a construction site in North Carolina. The general contractor failed to maintain a safe worksite for the persons operating dump trucks at the site. As a result, the bed of this dump truck, which was independently owned and operated, fell at the job site and sustained significant damage. Fortunately, no one sustained any bodily injury. The owner of the dump truck needed compensation for the damage to the truck and for the loss of revenue generated by the dump truck. The contractor refused to settle, and a suit was filed. The dispute was ultimately tried before a jury in Wake County, North Carolina in 2010. The jury returned a verdict for the owner of the dump truck for approximately $75,000, after finding that the contractor was negligent and that the dump truck operator was not negligent. John Kirby represented the plaintiff (dump truck operator) in this action. This or similar results cannot be guaranteed in other cases. Further disclaimers as to results are available on this site.
John Kirby has represented parties in hundreds of claims and lawsuits based on the alleged negligence of the defendant. These cases and claims include the following claims:
Cases against contractors for alleged negligence in construction, resulting in water and moisture intrusion.

Case against a contractor for allegedly negligently handling materials on a roof, which fell on a pedestrian.

Case against a parking management company for placement of traffic control devices in the roadway.

Case against a property owner for alleged insufficient security at an event, resulting in a fatal shooting.

Case against a golf course for alleged defects in the design of the golf course, resulting in injury to a person on adjoining property.

Case against a real estate agent for an alleged error in reporting of square footage of a property.

Case against a real estate agent for an alleged error in information in MLS system.

Case against a home inspector for alleged errors in a home inspection.

Case against attorneys (legal malpractice) for mishandling a client's lawsuit.

Case against an owner of machinery based on the failure of a hydraulic line, resulting in bodily injury.

Numerous automobile accident and Premises Liability cases, which topics are addressed elsewhere.